Home Makeover
BUNBARTHA, VICTORIA
The renovated home was once a tired weatherboard house that was in desperate need of a makeover. With decaying weatherboards and outdated bathrooms and kitchen, it required a transformation to bring it into the modern era. The client, a family of four with two boys reaching the end of their primary school years and starting high school, approached us with specific requests for additional storage, larger living areas, and a practical and functional floor plan to accommodate their growing needs.
The project aimed to expand the home and optimise its footprint to create a seamless and contemporary floor plan. Originally built on a farm in a different location, the house was transported to its current site in the 1970s. With three bedrooms and two bathrooms, it was essential to update the layout to better suit the family's requirements. The extension involved removing the back of the house and the existing kitchen, family room, and laundry, and replacing them with a spacious new kitchen featuring a generous butler's pantry. The extension also included a walk-in linen closet, meals area, living room, study nook, and a laundry/mud room. The existing spaces were reconfigured to create interconnected family spaces, and the master bedroom received a new ensuite and walk-in wardrobe.
The primary goal of the renovation was to increase the home's size to ensure the growing family could live comfortably. However, one standout feature of the project is the front façade and wrap-around decking. As you drive onto the property, this striking feature provides an incredible first impression.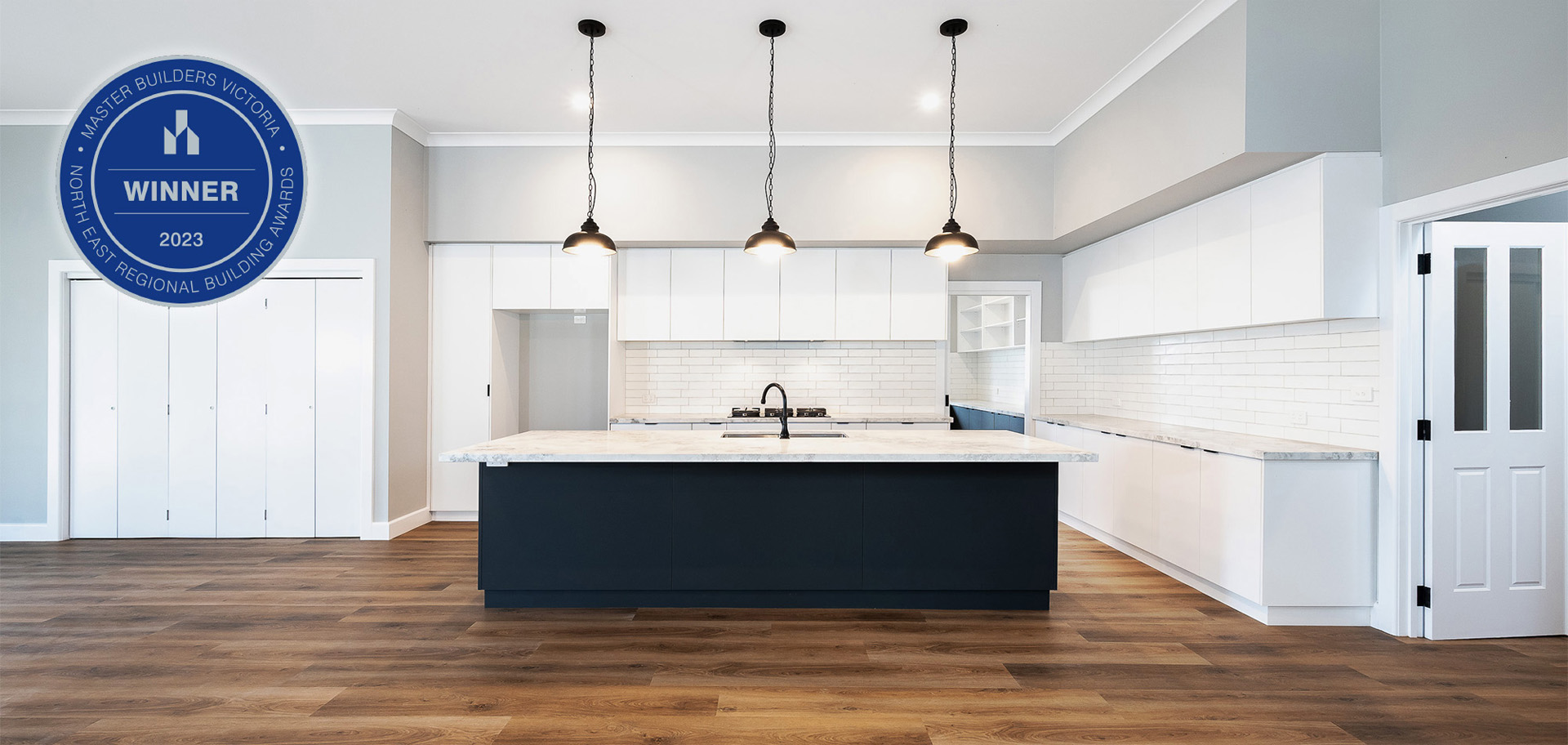 The choice of materials and fittings throughout the renovation adds to the overall aesthetic appeal and functionality of the home. Genero Deluxe vinyl planks in Fawn Oak were used for the flooring, providing a warm and inviting atmosphere. The kitchen features Stone Ambassador benchtops in Ottoman Grey and Laminex Absolute Matte cupboards, combining style and durability. Reece Plumbing fittings and fixtures were selected for the bathrooms, ensuring a high level of quality and functionality. To maintain the home's character, the original internal doors were repurposed, while new windows and external doors were installed. The front façade showcases James Hardie Linea weatherboards, creating an attractive and timeless look, while corrugated iron cladding was used elsewhere.
The ensuite boasts a stunning herringbone tiled feature wall, adding a touch of elegance and visual interest. In the laundry, a patterned tile called Artisan Provence in Glacier was chosen, enhancing the room's aesthetics.
Overall, the renovated home successfully achieved its goals of increasing space, improving functionality, and bringing a fresh modern design to a previously tired weatherboard house. It now stands as a stylish and comfortable residence that perfectly accommodates the needs of a growing family.