How Much Does a Kitchen Renovation Cost?
Posted on

February 11, 2022
Thinking about renovating your kitchen? Before you begin collecting colour samples or start planning your workflow triangle, one of your first thoughts might be, how much will it cost? Well, it depends. It depends on what you're starting with and what type of kitchen you have in mind.
The kitchen is the most renovated room in the house but because the humble kitchen includes so many different elements, no two renovations are the same. It's quite possible to give your kitchen a fresh new face by preserving the layout and focusing on aesthetic changes. Updating the door and drawer faces, replacing handles, and installing a new splashback could do the trick. Depending on the size of the kitchen this type of renovation is likely to be under $10,000.
On the other hand, electing to go for a full renovation which optimises the kitchen's layout, increases the footprint, and incorporates stone benchtops and high-end appliances can push you toward the $50,000 mark and beyond. For most renovations, though, the final cost lies somewhere in between.
A great deal goes into a kitchen renovation and each decision you make will impact the final cost. So, with so much to think about, how can you keep costs down?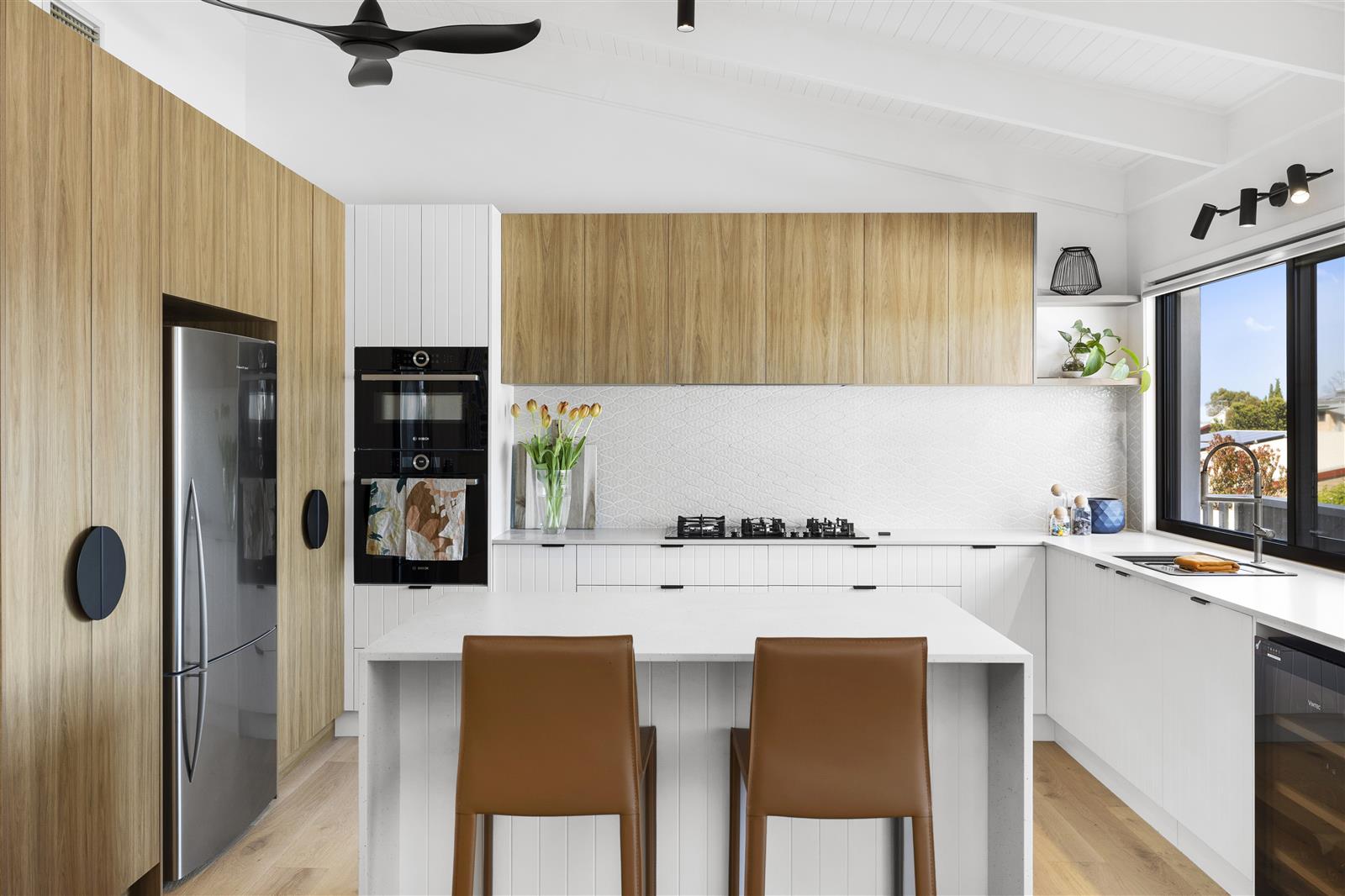 How to Keep Costs Down
It helps to develop a list of must haves. What are the elements you most want to include in your new kitchen? Is storage space a big priority, a functional layout, impactful finishes? Once you have some non-negotiable features in mind you'll be able to see where money can be saved on the aspects that are less of a priority for you.
If the layout of your existing kitchen is already practical, you'll save a lot of cash by keeping the appliances in the same position. Relocating plumbing or gas fixtures is a significant expense.
Costs can be kept down by retaining the existing cabinetry carcasses where possible—the colour, finish and profile combinations for new doors and drawers are almost endless. It may even be possible to have your existing faces repaired and sprayed with a 2pac coating rather than purchasing new ones.
As you'd expect, the materials, fixtures, finishes and appliances you select will influence the bottom line. Is it important to go for a luxury brand dishwasher when it's hidden behind the island bench or would the money saved be better spent on your splashback material? Would you appreciate the practical utility of task lighting more than an uber-pricey pendant light? Money can be saved all over the place by shopping around and comparing brands and styles—tapware, handles, and tile choice all offer the opportunity to hold on to your hard-earned cash.
The cost of labour is unavoidable but by planning carefully, the amount of time that trades need to put into your renovation can be minimised.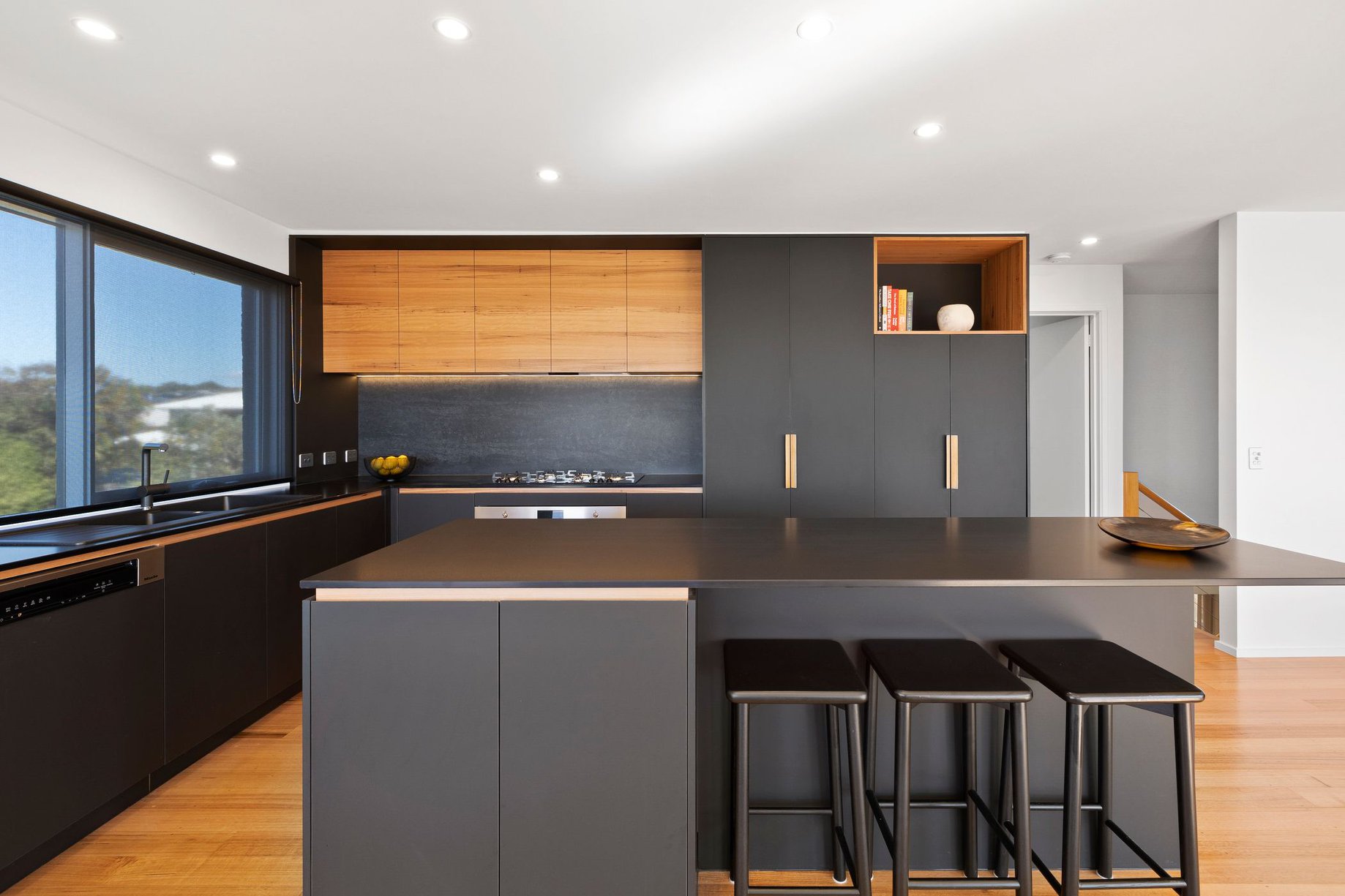 Having a loosely defined budget in mind is important from the get-go but the best way to fine-tune it before you begin your renovation is to have an open, up-front conversation with your builder. They'll be able to offer advice on the best ways to save money and give you an accurate picture of just what you'll be able to achieve with your budget.