Smith & Sons Mackay North are your local builders who specialise in renovations and extensions in the Mackay area.
We use modern building methods and materials alongside exceptional customer service to provide you with a renovation that completely exceeds your expectations.
Brett Hargreaves is the owner and builder for Smith & Sons Mackay North. He has over 13 years' experience in the building industry, with extensive experience in all types of renovations and extensions.
Smith & Sons Mackay North provide expert building solutions to achieve a quality renovation that suits your individual needs and wants. We take care of the entire renovation process from concept to completion- check out Our Simple 3 Step Renovation Process for more information.
Smith & Sons Mackay North are experts in bathroom renovations, kitchen refurbishments, decks, patios, adding a storey, home makeovers, commercial renovations, unit renovations, insurance work, raising homes and everything in between.
Don't forget to check out our extensive portfolio of renovation photos, including our Home Extension & Renovation in South Mackay which was awarded the Master Builders 2018 Best Renovation/Remodelling Project up to $275k in the Mackay & Whitsunday region.
Drop into our design centre located at Shop 1/160 Malcomson Street, Mackay.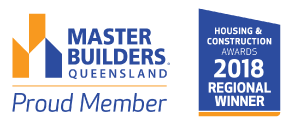 Luxury Living Homes Pty Ltd QBCC Licence # 1255035
About Us
Smith & Sons Mackay North are your local renovation and extension specialists servicing the Mackay area. From concept to completion, Smith and Sons Mackay North provide personal commitment, supervision and management to your project to ensure customer satisfaction and quality work.
Why choose Smith & Sons Mackay North?
We're a team of renovation and extension professionals.
We take care of it all – from the initial design and planning stage to the construction.
Efficient and reliable service at all times.
Qualified, professional staff who will listen to your needs.
Quality of workmanship.
Project completed on time, to budget, with the end result exceeding your expectations.
So, if you have no idea what you want, some idea of what you want, or a full set of plans already, give us a call today!
Mackay and Surrounds
Mackay is located 970km north of Brisbane and offers a supreme location and lifestyle within one of the most growth regions in Australia.  With the Great Barrier Reef, Coral Sea and Tropical Islands on its doorstep you wouldn't want to live anywhere else.
What We Do
At Smith & Sons Renovations & Extensions Mackay North we are experts in..
Bathroom Renovations
Kitchen Renovations
Room Refurbishments
Decks
Patios
Add a storey
Home Makeovers
Commercial Renovations
Unit / Apartment Renovations
Office Renovations
Office Fitouts
Insurance Work
Maintenance Work
Raising Homes and everything in between….
If you are not sure – please call us and have a chat about your project and we are sure to be able to help.